Your computer may seem to be working fine, but there are still issues you haven't discovered that are affecting your "health". Just as you should regularly check your car's oil, water, and tire pressure, you should regularly use Windows tools to analyze and improve your computer's performance. These Microsoft resources are spread across different areas of the operating system, but Wintoys' free software makes everything easier with a well-organized interface that lets you access everything easily. Download this program from Microsoft Store.
1 – Open the program and click on the "Health" tab. This is where you will find important features (such as those that allow faster startup), which can be activated/deactivated using sliders or a drop-down menu. To improve startup speed, turn on Fast Startup and Hibernation. Finally, the "20%" sign indicates the amount of memory reserved for the fast access copy of the system that the computer may have to use to boot. This is the minimum required for a quick start, so we recommend leaving this parameter as is; For example, if you increase it to 40%, this will also make reactivation faster after hibernation.
two – If you're experiencing unexplained crashes, such as the "Blue Screen of Death," you may not know which tools to use to resolve them – this no longer happens with Wintoys. Go to the "Repair" section and check the boxes next to the available options: "DISM" checks whether the files that Windows uses to repair the damaged system are valid. "SFC" repairs any problems with system files and "CHKDSK" moves data from bad hard disk sectors to safe areas. After choosing the desired options, click "Scan".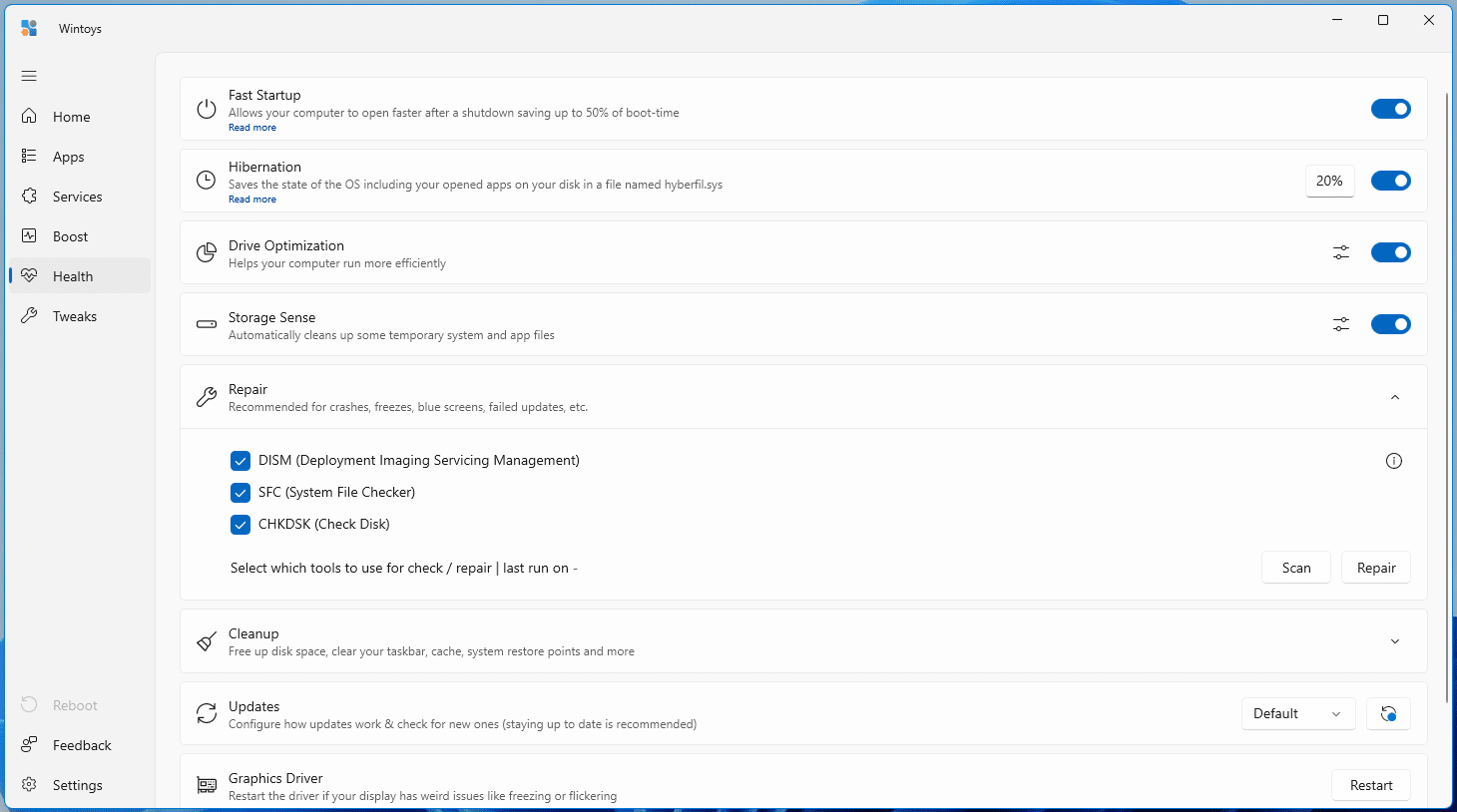 3 – Click the View Logs button to view the scan results. If these indicate that repairs are necessary, close the box, click the "x" and then the "Repair" button. Please note that although you can run a 'CHKDSK' scan on the 'C:' drive while Windows is running, you cannot use the repair function, so as not to risk changing data that Windows 'trusts'. If you choose this option, the correction will be performed when you restart your computer.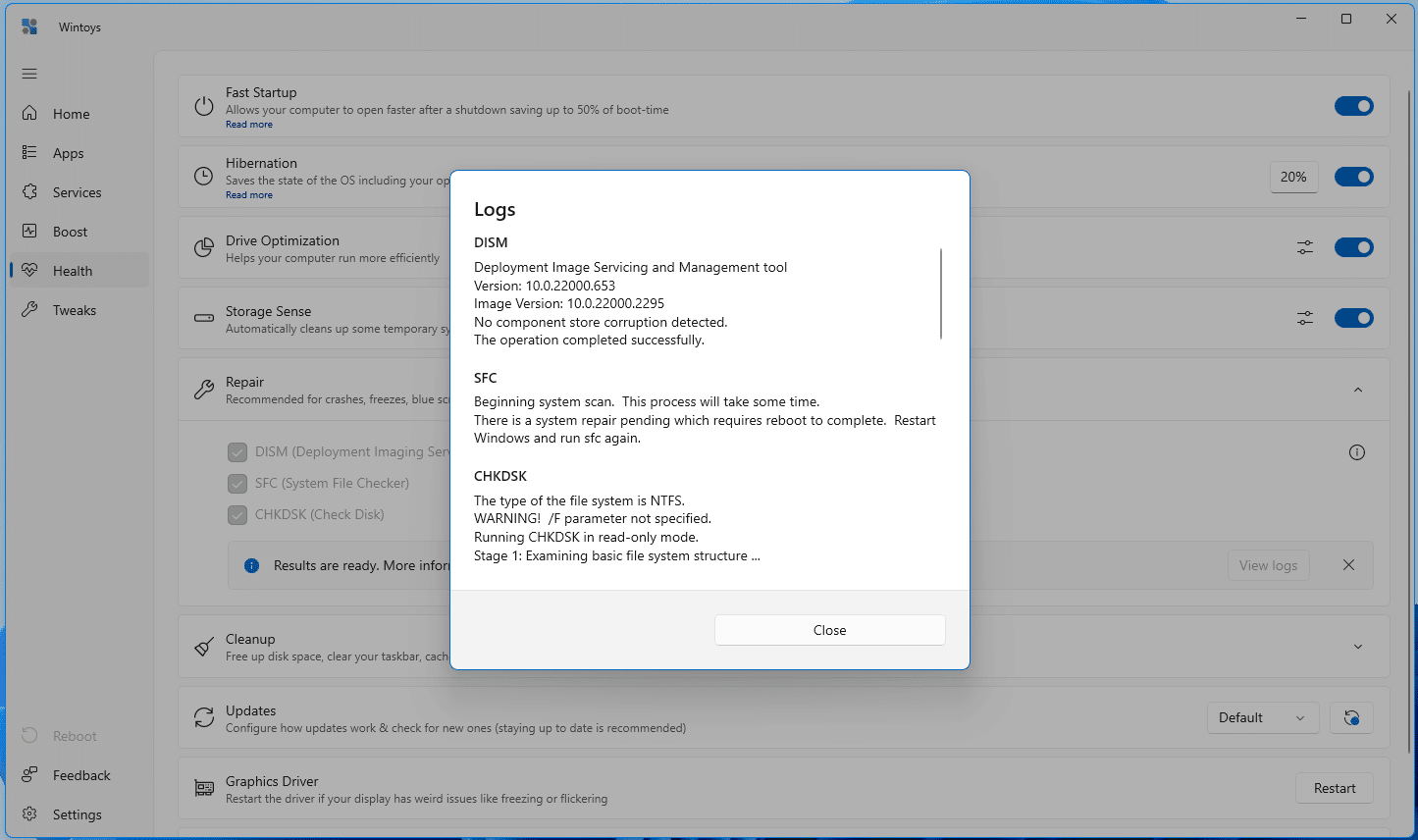 4 – The more you use your computer, the more disorganized it becomes and the more "junk" it has: in this case, Windows can do some "cleaning up". Use the "Clean up" option to organize your computer: Here, we have the "Taskbar", which allows you to pin and unpin items from the taskbar; "Junk Files", to remove all useless files; File Explorer, to automatically remove pinned folders in File Explorer's Quick Access; "Microsoft Store", to clear the cache for this store; "DNS", to clear the DNS cache; And "System Restore" to delete old system restore points.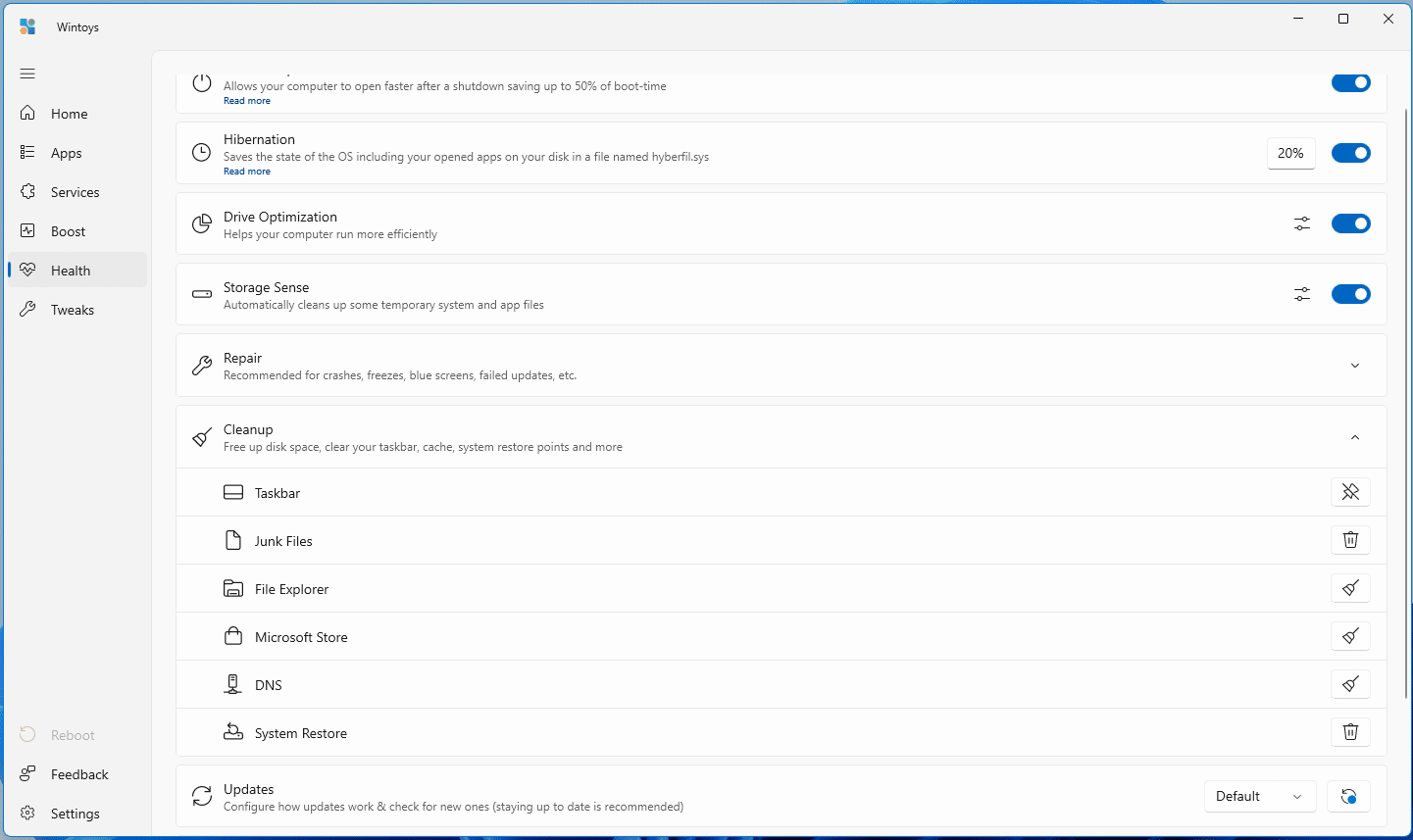 5 – Wintoys has many features, so you can activate an option and then see in more detail the settings available in each option. Turn on "Storage Sense" which, when enabled, automatically removes temporary files to keep Windows running smoothly. Click the Settings icon to open this option within Windows; Here you can reduce the amount of time files remain in the Recycle Bin and automatically delete old files in the Downloads folder.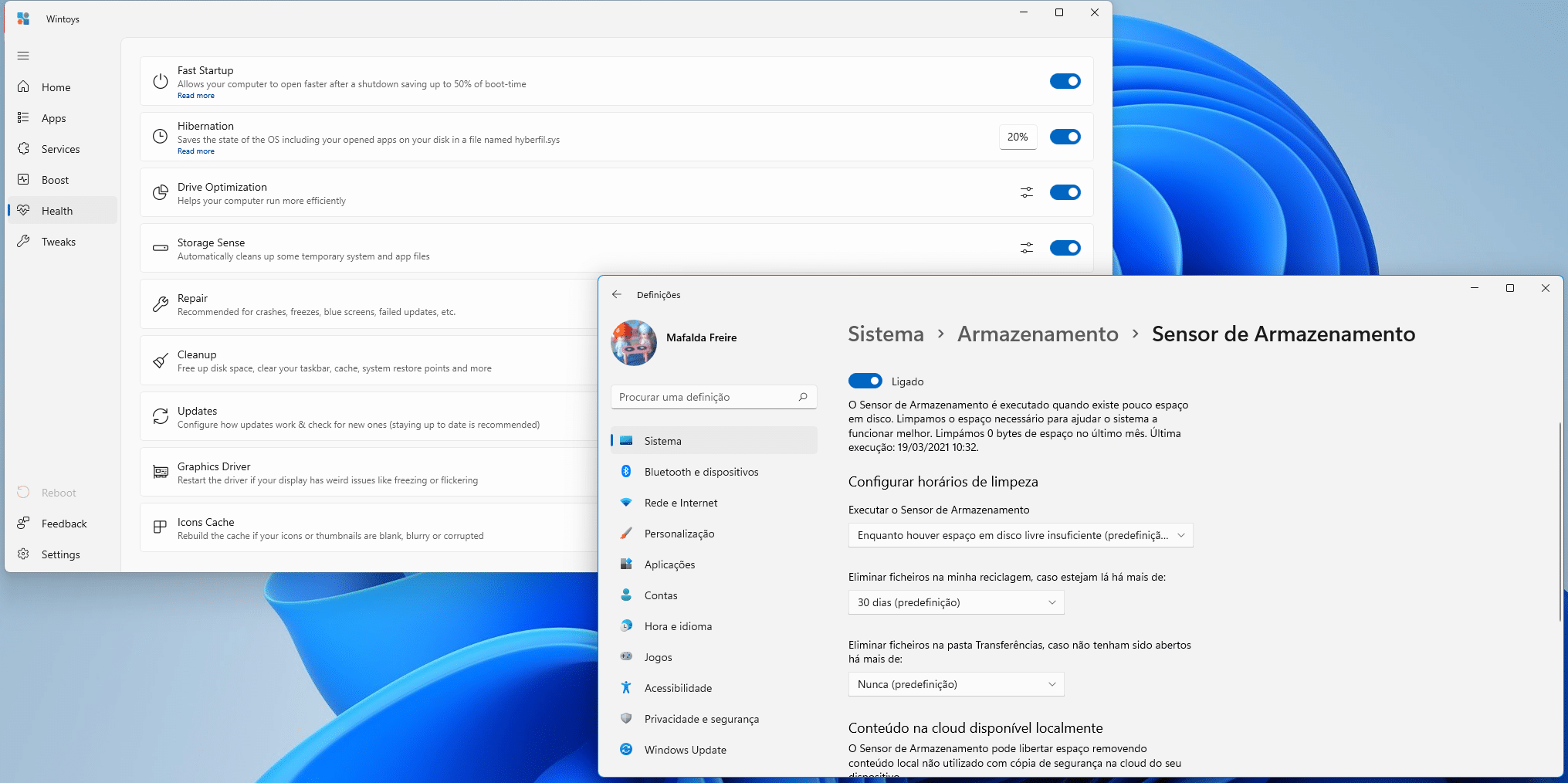 6 – If your computer screen freezes for no apparent reason, click Restart > Graphics Driver. This will cause your screen to go completely black for at least thirty seconds, and naturally when the image returns, some options will change to what Windows recommends, such as the display scale. If this happens, press the Windows+I keys to open Settings > System > Display and change this setting.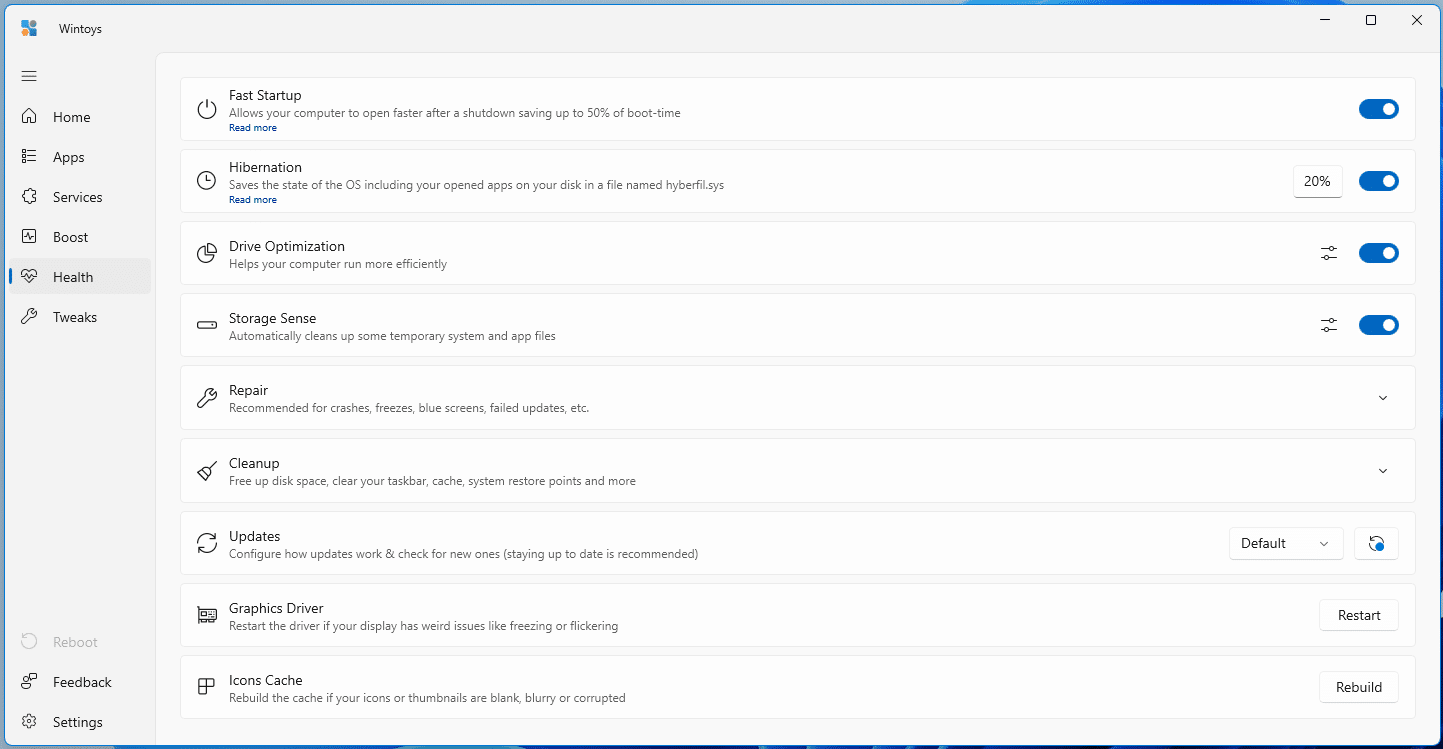 7 – After the "Health" tab, it is useful to go to "Reinforcement". Here, you have options to quickly access programs that start when Windows starts, to disable unwanted programs. You can also allow the operating system to maximize the use of your computer's components by activating "Ultimate Performance". So, if you need more processing power, activate this feature and then turn it off when it is no longer necessary, so that it does not consume too much power.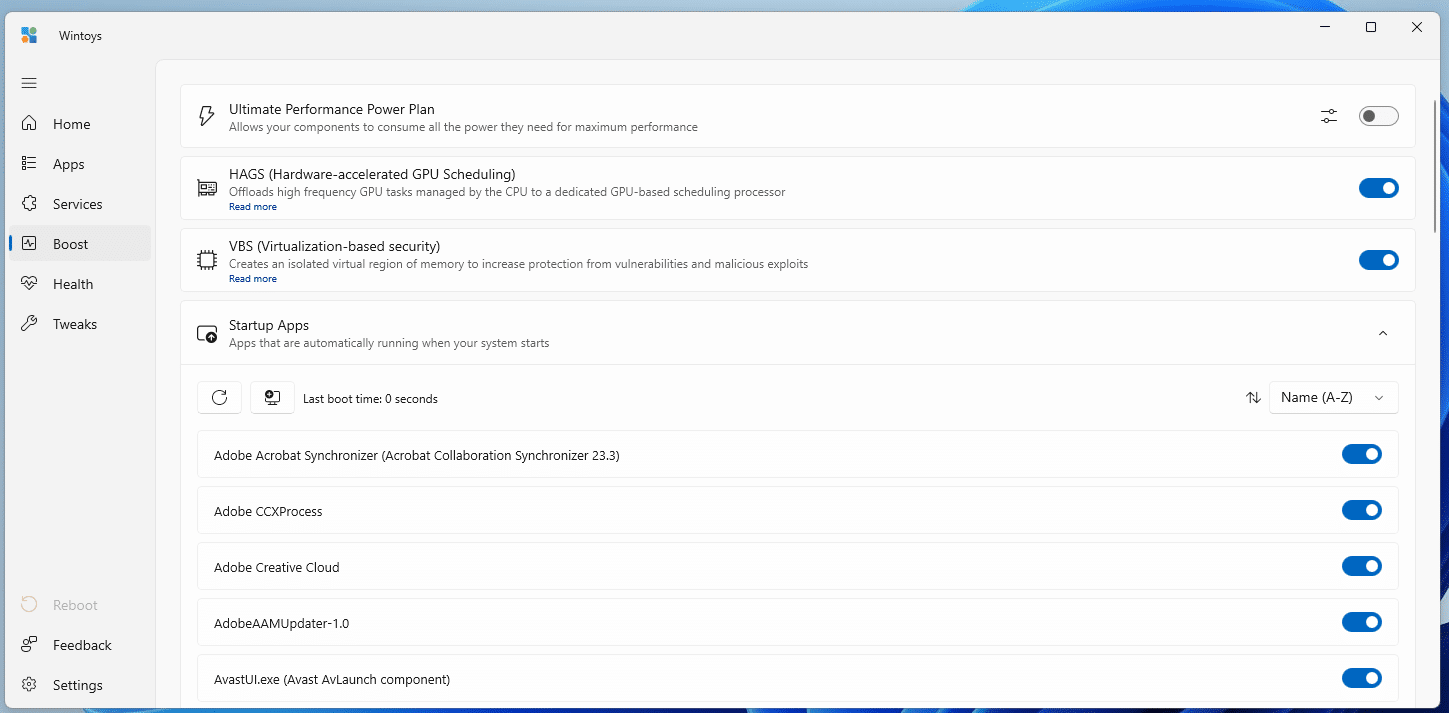 "Coffee trailblazer. Social media ninja. Unapologetic web guru. Friendly music fan. Alcohol fanatic."