Common item in adaptationHowever, air filtration systems are not actually effective in reducing the risk of contamination with viral infections. This is the conclusion of a new study conducted by researchers at the University of East Anglia (UEA) in England, and published in the Scientific Journal of Preventive Medicine.
"Air filters are designed to filter pollutants or contaminants from the air that passes through them. When the Covid pandemic hit, many major companies and governments looked into installing this type of technology in an attempt to reduce airborne virus particles in buildings and small spaces. But air treatment technologies can "They are expensive. Therefore, it is reasonable to weigh the benefits and costs and understand the current capabilities of these technologies," explains university professor Paul Hunter in a statement.
Therefore, those responsible for the new work analyzed 32 studies conducted in real-world settings, such as schools or nursing homes, that looked at the incidence of infection and exposure, or lack of exposure, to air filtration systems. The team sought evidence regarding the protection the technology promised to provide against airborne respiratory or gastrointestinal pathogens.
"In summary, we found no strong evidence that air treatment technologies are likely to protect people in the real world. There is plenty of evidence that environmental and surface contamination can be reduced through various air treatment strategies, especially germicidal lights and high-efficiency particulate matter," says the lead researcher. In the study, Julie Brainard, also from the University of East Anglia: "HEPA filtration. But accumulating evidence suggests that these techniques do not prevent or reduce disease."
She explains that during the review of studies, there was some evidence suggesting a supposed benefit, but it was "weak" and "appeared to be biased and unbalanced." In general, no robust data have been found to demonstrate lower infection rates.
"Our findings are disappointing, but it is important that those making public health decisions have the full picture. We hope that studies conducted during Covid will be published soon and that we can make a more informed judgment about the value of air treatment during the pandemic."
This work was carried out in collaboration with the Universities of Essex, Norfolk, Norwich and Surrey and University College London, all in the UK. The review received funding from the National Institute for Health and Care Research, the Health Protection Emergency Preparedness and Response Unit, led by King's College London and the University of East Anglia, in collaboration with the UK Health Security Agency.
See also
Argentina
Sergio Massa won only 3 of the 24 regions, and was crushed in the interior of Argentina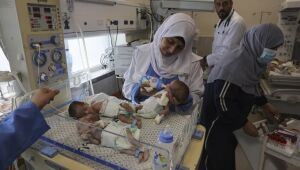 War in the Middle East
Egypt says it received 29 premature babies who were transferred from the largest hospital in Gaza
"Wannabe internet buff. Future teen idol. Hardcore zombie guru. Gamer. Avid creator. Entrepreneur. Bacon ninja."