The programme, which was held at the reception center in Otinga State Park, reinforced the importance of paying attention to women's health
Written by Vinicius Leal (IDEFLOR-BIO)
10/20/2023 at 10:43 pm
The Institute of Forestry and Biodiversity Development (Ideflor-Bio), on Friday (20) promoted a special event in reference to the "Pink October" campaign, Breast Cancer Awareness Month. The program, which was held at the reception center of the Otinga "Camilo Viana" State Park, in Belém, targeted employees of the Environment Agency of the Government of Pará.
The initiative aims to raise awareness about the importance of prevention and early diagnosis of the disease. The event included many activities, dialogue sessions and moments of celebration, which created a conducive environment for exchanging experiences and disseminating information related to women's health.Various activities were offered at Parque do Utinga
Ideflor-Bio employees also received guidance from volunteers from the Pará Association Against Breast Cancer (Apacam), a non-governmental entity that has been working to combat and prevent the disease for 23 years. They discussed topics such as the importance of mammography, self-examination, healthy eating, and the role of regular medical monitoring in preventing breast cancer.
In addition to the lectures, the event offered free clinical examinations, giving employees the opportunity to quickly and practically check their health. The Welcome Center at Utinga State Park is equipped to receive participants in a comfortable and welcoming manner.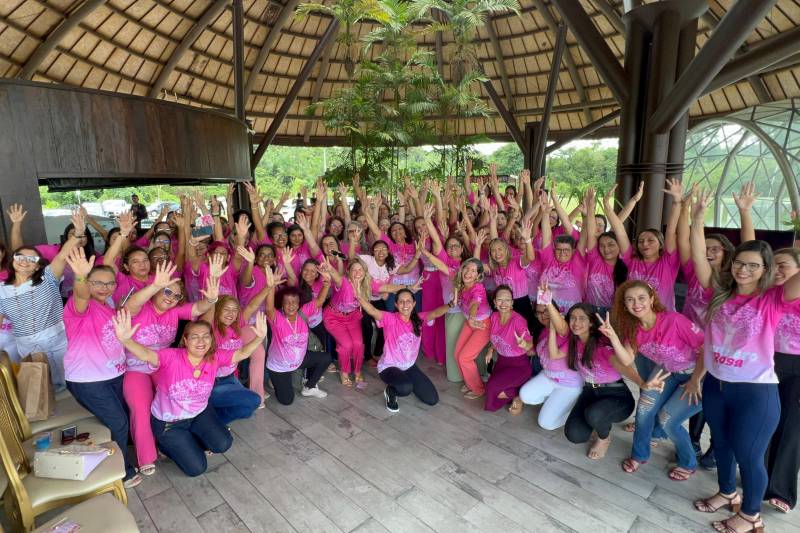 The organizers confirmed the employees' commitment to the program
continuity – Lina Pinto, Technical Advisor of Ideflor-Bio, highlighted the importance of such actions to educate employees and promote awareness about breast cancer. "Prevention and early diagnosis are essential to increase treatment opportunities and reduce deaths from this disease. Furthermore, we reinforce Ideflor-Bio's commitment to enhancing the health and well-being of its employees.
The ceremony also included entertainment activities, live music, and the distribution of gifts for the Pink October campaign.
For Ideflor-Bio's People Management Director, Socorro Santiago, the event was considered a success, reaching the expected target. "Our goal was to stimulate thought among the institute's staff and give them new meaning about the importance of fighting breast cancer. We are very happy that everyone participated, and that the knowledge they gained here today can be replicated and shared with other women."
Servers attended lectures on the disease
Incentive "Pink October" is a global campaign that aims to raise awareness in society, especially women, about the importance of prevention and early diagnosis of breast cancer. Initiatives such as the one promoted by Ideflor-Bio contribute to expanding knowledge on this topic and strengthening the support network for women facing the disease.
For maid Carla Barbosa, "It is without a doubt an event that brings more knowledge, especially to those who do not have access to this information, so that they can be careful about their health. All of this encourages us to take some time and look at ourselves. We work too hard and end up forgetting about our health. Certainly, this program has contributed to focusing on us women.
"Wannabe internet buff. Future teen idol. Hardcore zombie guru. Gamer. Avid creator. Entrepreneur. Bacon ninja."