Whenever a new generation of iPhone is released, countless tests are carried out to ensure the quality of the new devices. For example, two recent papers have analyzed the ability to do so Recharge iPhone 15. Did the USB-C port bring improvements in this sense?
Starting with testing Dexomark, which evaluated a variety of Apple and third-party cables when recharging devices. The first major conclusion was the confirmation that there are no restrictions on downloading using sources other than those from Apple – at least not among those tested.
Tests indicated that the charger is capable of transferring 90% of the power extracted from the socket to the smartphone. Translating this into numbers, when using a high-power charger, it is possible to recharge the iPhone 15 with 20W and the iPhone 15 Pro Max with 25W, which are not surprising numbers at all.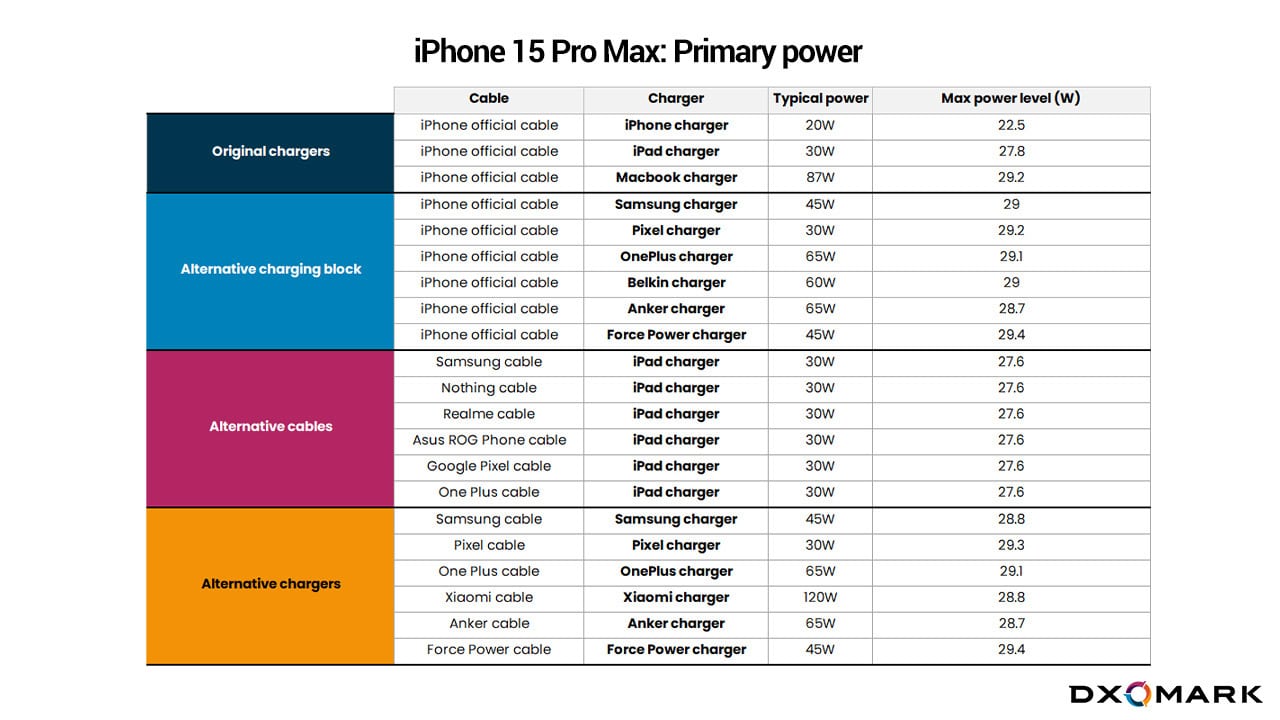 These data coincide with those in the tests LAB charger With the iPhone 15 Pro Max, with both Apple and third-party chargers, the device's recharging power was around 25/26W — similar numbers to those of the previous generation, even with the new feature surrounding the connector.
The ChargerLAB has also been time tested. The iPhone 15 Pro Max was able to complete a full charge in 1 hour and 55 minutes using Apple's 35W USB-C dual charger. Surprisingly, the device recharged to 80% in 51 minutes, less than half the total charging time.
With the 70W charger, the charging curve was similar and there was no significant improvement over the less powerful source, with the device completing the charging process in 1 hour and 48 minutes. This "slowness" is explained by the fact that the USB-C port on iPhones does not have an E-Marker chip, which is necessary for charging with more than 60 watts.
Finally, a charging temperature test was also performed in a 25°C environment. The highest temperature recorded was around 38 degrees Celsius, about 30 minutes after connecting the device. Interestingly, after one hour of charging, the temperature dropped to just under 30°C.
Remember, we also ran several tests using the USB-C port on new iPhones!
What do you think of the results?
---
buying
iPhone 15 Pro and 15 Pro Max
in apple
Cash price: From R$ 8,369.10
Price in installments: Starting from R$ 9,299.00 in 12 installments
Colors: Natural titanium, blue titanium, white titanium and black titanium
Capabilities: 128 GB, 256 GB, 512 GB or 1 TB
---
buying
iPhone 15 and 15 Plus
in apple
Cash price: From R$ 6,569.10
Price in installments: Starting from R$ 7,299.00 in up to 12 installments
Colors: Blue, pink, yellow, green or black
Capabilities: 128 GB, 256 GB or 512 GB
Transparency note: Mac Magazine You receive a small commission from sales made through the links in this post, but you, the consumer, pay nothing more for the products by purchasing through our affiliate links.
via Wccftech
"Coffee trailblazer. Social media ninja. Unapologetic web guru. Friendly music fan. Alcohol fanatic."