Written by Pedro Peduzzi
Next Sunday (19) will be National Fighting Day Aedes aegyptiIt is an emblematic history of the fight against mosquitoes that, since 2000, have been responsible for about 20 million diagnoses of three very common diseases in Brazil: dengue, chikungunya and Zika virus. This powerful disease vector – Aedes aegypti – It can be fought. But it requires everyone's awareness and cooperation.
According to the Ministry of Health, actions taken in partnership with state and municipal health departments led to a "significant reduction" of 97% in the number of dengue cases reported in Brazil, between April and September.
In the 15th week of the year, from April 9 to 15, 114,255 suspected cases of the disease were recorded. In the 35th week, from August 27 to September 2, 3,254 cases of dengue were recorded. He added that the period from March to June is usually where the highest cases of arbovirus infections are recorded in the country.
In 2023, the total number of "probable cases" of the disease recorded up to the end of August was just over 1.5 million – a figure slightly higher than the number recorded in all of 2022, when there were nearly 1.4 million registrations. In 2021, there were just under 532,000 cases.
procedures
The hot climate contributes to the proliferation of mosquitoes and an increase in the number of infected people in the country
In order to avoid a worse situation, the government has adopted initiatives such as the mobilization of the Center for Arbovirus Emergency Operations (COE) which, in addition to implementing 11 support measures to the states with the highest number of cases and deaths due to dengue and dengue fever. Chikungunya, approximately 345,000 serological reactions have been distributed so far and 131,000 tests have been performed.
Also according to the ministry, R$84 million has been invested in purchasing insecticide and larvicides to combat mosquitoes in the country.
The risk stratification process has begun within municipalities in areas considered priority for the implementation of new technologies, such as spot spraying inside homes, the deployment of larvicidal traps, and the adoption of the Wolbachia method, which consists of releasing mosquitoes containing bacteria that inhibit mosquito reproduction. Development of diseases in insects themselves.
Other measures highlighted by the government included the launch of a public arbovirus dashboard; And watch the national campaign to mobilize the population; More than 9,500 health professionals through the Open University of the Unified Health System (Una-SUS) and 2,196 health professionals have been trained in clinical management, surveillance and control of sexually transmitted viruses through face-to-face training.
The Ministry of Health says these measures may not be sufficient without encouraging community participation to eliminate mosquito infestations. "Currently, Aedes aegypti vector control is the main method for preventing and controlling arboviruses," he added.
symptoms
The symptoms of dengue, chikungunya, or Zika are similar: fever with a sudden onset, accompanied by headache, body and joint pain, prostration, weakness, pain behind the eyes, rash and itchy skin, red spots on the body, in addition to nausea, vomiting, and abdominal pain.
The advice is that if you develop these symptoms, you should search for the unit or health service closest to your place of residence as soon as the first symptoms appear.
Some preventive measures help in combating the disease: avoiding standing water, emptying bottles, not storing tires in uncovered areas, not accumulating water on shingles or gutters, putting sand in plant pots and covering barrels and water tanks well are some basic prevention initiatives. Mosquito breeding.
Any place with stagnant water should be eliminated, as this is where the mosquito that transmits it lays its eggs.
See some here Guidelines Of the Ministry of Health.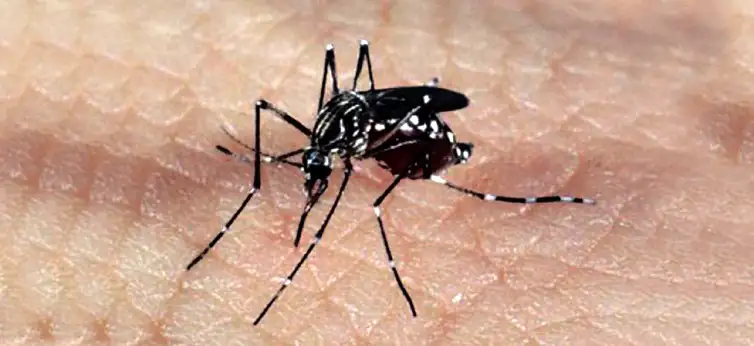 How to eliminate the main types of mosquito breeding sites
Make sure the water tank and other water tanks are properly covered;
Remove leaves or other types of dirt that can cause water to accumulate in gutters;
Store tires in covered places;
Store bottles with the mouth facing down;
Regularly clean drains, channels and other types of water drainage;
Clean and remove water accumulation from air conditioner and refrigerator trays;
Wash the edges of containers where water accumulates with soap and a brush/loofa;
Throw the larvae on the ground or dry ground.
For large water tanks and other water tanks intended for human consumption, a sanitary agent is necessary for larvicide application;
Use sand in plant pot dishes or do weekly cleaning;
Remove water and periodically clean plants and trees that can accumulate water, such as bamboo and bromeliads;
Store buckets with the mouth facing down;
Rubber tarpaulin used to cover objects, such as tires and debris;
Maintaining the cleanliness of swimming pools;
Keep or throw away items that can accumulate water: bottle caps, dry papers, toys;
In containers containing larvae where they cannot be disposed of or disposed of properly, apply cleaning products (powdered soap, detergents, disinfectants, pool chlorine) and check the container weekly, as long as the water is not intended for human or animal consumption. . It is important to request the presence of a health agent to carry out larvicide treatment.
How to clean
Covering and washing water tanks are important measures to control Aedes aegypti. Cleaning must be done periodically with water, loofah and soap. When the water in the tank runs out, the containers should be washed again and stored upside down. This care is necessary because mosquito eggs can live for more than a year in a dry environment.
"Wannabe internet buff. Future teen idol. Hardcore zombie guru. Gamer. Avid creator. Entrepreneur. Bacon ninja."